OH GOD IT HAS FINALLY ARRIVED. In celebration of reaching the final episode of Avatar: The Last Airbender, let's all have a giant party and watch all four parts of "Sozin's Comet" at the same time. The Avatar liveblog WILL SURELY BE THE BEST PARTY YOU ATTEND ON THE INTERNET THIS MONTH.
I am legit sad this is ending. 🙁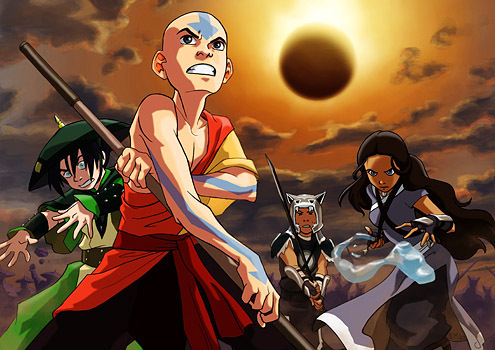 (I know I am using images from the Invasion of the Black Sun, but that's because I refuse to Google image search this episode. NO SPOILERS.)
The Avatar series finale liveblog will occur at 11:00am PDT on July 9th, 2011. Please consult a world clock to learn what time this is relative to you!
If this is your very first liveblog on Mark Watches, the rules are very simple. At precisely 11:ooam PDT, start your DVD/Netflix/other means copy of "Sozin's Comet." Use the comments as your own personal space to comment the hell out of the episode. Think of it as an online chat room of sorts! Except we are all unified in MIND-BLOWING AWESOMENESS.
ABOUT SYNCHING ISSUES: Only Netflix skips all three of the intros/'Previously On…' segments. So in order to stay in sync, the lovely Echinodermata gave this simple way for us to keep on track!
We will be synching with the WHITE TITLE CARDS for this. So, at 11am, we'll all press play from THIS screen, though obviously with the right card:
Given that each part is about 25 minutes long, here's the schedule. At the time listed, we will press play from the white title card denoting that chapter, skipping the opening credits if you are not watching via Netflix:
Chapter 1: 11:00am PDT
Chapter 2: 11:30am PDT
Chapter 3: 12:00pm PDT
Chapter 4: 12:30pm PDT
This will allow 4-5 minutes of episode switching, potty breaks, tea gatherings, and foraging of potato babies.
I will post a review of the series finale on Monday, July 11th at my normal time. And then stuff will happen. You'll see. For now, that's the set schedule. (PS: I'll post the details for the A Very Potter Sequel liveblog tomorrow morning. That takes place at the same time this upcoming Sunday!)
Happy watching! Can't wait to party with all of you!